"..Үрс гарч байгаа нь хэмээх бүтээл нь Балдуугийн Шаравын XX зууны эхэн үед зурсан "Намар-Зун" хэмээх цуврал зургийн нэг "Зун" хэмээх бүтээл бөгөөд бүтээгдсэнээс хойш "Үрс гарч байгаа нь", "Айрагийн баяр", "Гүүний үрс гаралт" зэрэг нэрээр нэрлэгдэж ирсэн байна.
Бүтээлд Монголын хөдөө нутгийн нэгэн малчин айлын зун цагийн ажил үйлс хийгээд, амьдралын үйл явдлыг өргөн дэлгэр хамран харуулжээ. Б.Шарав тус бүтээлдээ малчин хүний дүр, нүүдлийн аж ахуйтны хөдөлмөрийн өвөрмөц онцлогийг цомнож үзүүлсний томоохон нь "Гүүний үрс гаргах ёсон" билээ, эртний домог зүйн улбаатай, жавхлант сүргийн сүр жавхааг уран дүрслэлээр үзүүлсэн төдийгүй түмний аж амьдралыг яруу тод дүрслэн харуулснаараа онцлог юм.
Бүтээлд XX зууны ард түмний аж амьдралыг дүрслээд, айраг архад ууж, дуу хуур үүсгэн наргиж, наадаж байгаа язгууртан дээдэс, баяд, ноёд, лам нарын дүр, дүрслэлийг гүү мал сааж, ноос савж, аргал түлээ түүж буй малчин ардын дүртэй харьцуулан харуулсан нь бие биеэ тодотгосон эерэг, сөрөг дүрийг арга билгийн гүн утга санааг илэрхийлжээ. Эдгээр бүх дүрийг далд ёгт утга агуулсан хошин дүрээр илэрхийлсэн байна..
"
Эрдэм шинжилгээний ажилтан

Д.Гоомарал

2019-08-27 Г.Занабазарын нэрэмжит дүрслэх урлагийн музей, Улаанбаатар хот













The first postage stamp of Mongolia
July 1, 1924
The newspaper "Today" front of Artwork "One day in Mongolia"
The Fine Arts Zanabazar Museum
January 6, 2022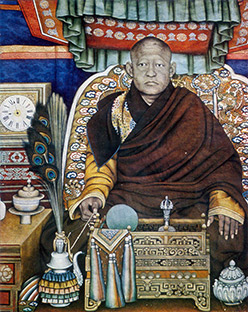 Bogdo Khaan by Marzan Sharav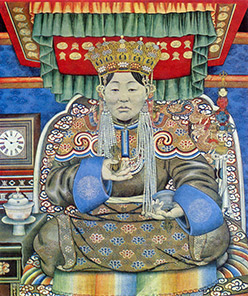 Queen Dondogdulam by Marzan Sharav