KARL PERSSON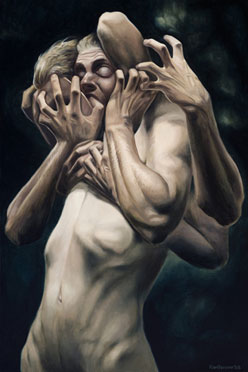 - New Exhibition "KARL PERSSON - ART" Neue Ausstellung -
Karl Persson is a 32 year old artist who was born in Sweden and has lived in Australia for most of his life. After completing a diploma of visual art in 2003 He began his career as an artist, exhibiting in Australia, America, Germany, and Italy.

He has also been published in numerous books such as, "Hunt and Gather", and "Metamorphosis", and magazines such as "Girls and corpses", "Tattoo Fest", "Inside Artzine", "Juxtapoz", "Virus", and "fire Mass".

Perssons' art can be seen as an exercise in exploring the hidden, yet fundamental elements of the human condition. Erotic themes, and motifs of death, fear, and anxiety often inform Karls' subjects. He draws much of his influence from dreams and experimentation and paints what he considers to be honest projections of the subconscious mind, without bias towards what may been seen as beautiful.

He currently lives in Berlin.