Dorjdererm Davaa
(mong. Даваагын Дорждэрэм)
Me, Dorjderem, was born as the eldest son of Mr.Davaa, the power- lifter. I hardly
recall my childhood but one thing is that once I made a big horse with all scraps of
plasticine I had. I was around 5-6 years old at that time.
I think it was the first effort that I had tried to express myself. I felt like I was meant
to be a painter, a sculptor or an artist ever since. I have been a member of "The
Blue sun", the Mongolian Contemporary Art Center, since I graduated from the
Fine Art Institution after 5 years of study at the completion of my secondary school.
As I believe, the reason why I am still dedicated to art is that I had always felt that I
had a creative mind.
Education:
2005 Studied at Institute of Fine art, Ulaanbaatar
Solo Exhibition:
2011 Refugees, Xanadu Art Gallery, Ulaanbaatar
2009 Portrait relationship, Xanadu Art Gallery, Ulaanbaatar
2007 Voice in the Space, Xanadu Art Gallery, Ulaanbaatar
2007 Portrait and Conversation, Blue Sun Art Gallery, Ulaanbaatar
2006 Bird of Concealed Universe, Blue sun Art Gallery, Ulaanbaatar
Group Exhibition:

2011
ZURAAS
exhibition, ZURAG Gallery, Berlin, Germany
2011 Private, joint exhibition in Antwerp, Belgium
2011 Mongolian joint exhibition at European Union, Brussels, Belgium
2011 Modern mongollia, Hong kong
2010 From Imagination, to Creation, Mongolian fine art Gallery, Ulaanbaatar
2010 Blue sun best art, ILOFT function house, Ulaanbaatar
2009 The 4th Fukuoka Asian Art Triennial
2008 Colors of Mongolia, Geneva Switzerland
2007 X. Art Gallery Of Chinggis, Ulaanbaatar
2007 Wind of Mongolia, Tainan, Taiwan
2007 The best works of 2007, UMA, Ulaanbaatar
2007 New Art, Fine Art Museum of G.Zanabazar, Ulaanbaatar
2006 The best works of 2006, UMA, Ulaanbaatar
2006 Wind of Mongolia, Sant Avent, France
2006 Golden brush, UMA, Ulaanbaatar
2005 Spring, UMA, Ulaanbaatar
2005 New Art, Fine Art Museum of G.Zanabazar, Ulaanbaatar
2004 Mongol smith, Mongolian fine art Gallery, Ulaanbaatar
Art Project:
2011 Mongolian contemporary art, a joint adventure project, Brussels, Belgium
2008 "Made Crag" Moscow, Russia
2006 "Bird of Concealed Universe", visual art project, Khuvsgul, Mongolia
Award:
2008 People choice award, Singapore Art prize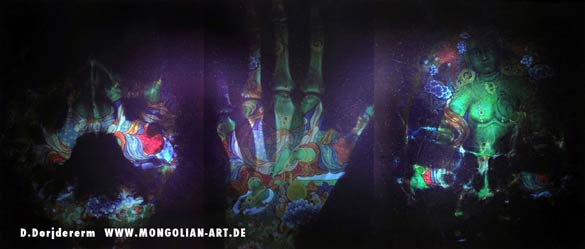 MOTHER (portrait serial) 130x60 cm /light box/
THE PORTRAIT

THEY (portait serial) 180x70 cm /light box/
THE PORTRAIT

The idea for "The portrait" came from my grandfather's brain x-ray scan. If we can see and scan human skeleton structures with help of modern technology, then we can see through the mind, human intellect and relationships. Based on this idea, I refuted the traditional portrait concept and created a new concept of the portrait. The form and meaning of this composition lies in using ordinary things that we use everyday in our
lives. However, these ordinary things became an ironic key to express the individuals in my work.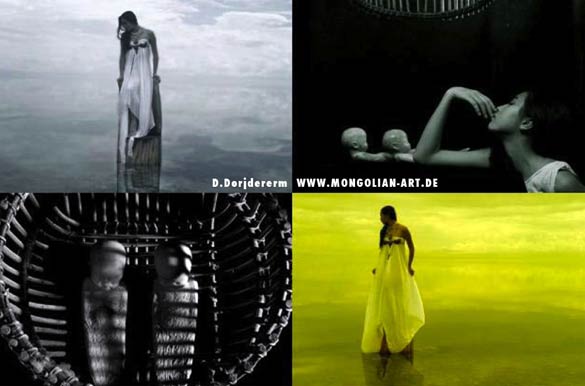 VOICE IN THE SPACE 90x60 cm (photo version) /photo print/
VOICE IN THE SPACE 150x60x35 cm /Horn, wood, goat skin, mixed media/
VOICE IN THE SPACE
This work is about the life of the fetus in the womb, from the moment of its conception until it is given birth. Although the fetus is contained in the small space of the womb, I think that its consciousness exists in a larger space and the nine months spent in the mother's womb equals a lifetime. The baby about to be born thus exists in aperipheral space, preparing to leap from the life in the womb to life in our world. The layers of the horn symbolize the life stages of the fetus. They represent the various voices that the fetus hears and interacts with as it grows. The voices get louder and louder as the layers get bigger and bigger. Since the fetus is god-like, existing in its own universe in its natural state, it can hear internal voices that men cannot hear.
The baby in the box is the focal point of the work. The box is our universe, which the baby is about to enter. I've used a box to represent the external universe because I think that men are bound by space, we are restricted by space and we are dependent on space. Thus, the box is the door to our world. When the baby enters this door, it loses its god-like character.
I think that man's life in the mother's womb, the pre-birth life, is the freest, most tranquil existence man can ever achieve.
The human race has been seeking for every kind of freedoms and eventually finds it. They can't realize that their freedom is dependent on the nature. - The more freedom and development the human enjoy, the lesser freedom is spared for the nature to be free from any kind of harm. Consequently, we end up lacking sources of water, air, foods and places to live.
We protect our freedoms while abandon the nature's freedom.
Jumping (refugees serial) 150x200 /oil, canvas/
REFUGEES

The humans seek for refuge from their minds and current situations which have been built by their very own hands yet they have a love and hate relationship with them. So, people end up becoming refugees being constantly targeted.
Target – myself
Things take aim - a place, where you socially meant to be in.
Responsibilities and comforts; such causes and excuses related to you altogether hold you as the target or the mind refugee.
Horns – Rings of the horns resemble past, present and future in frequency of circles. The circles of the times create swirls in within and between them where memories of these three times and human minds kept.
This is the way how every single thing works on earth.
Space & nature - an essential quality what you wanted to turn to be or a place where you want to take refuge since the human body, naturally, is a part of the earth while being a whole individual earth itself.
A TEN YEAR OLD FIANCEE 120x85 cm /oil, print/
A TEN YEAR OLD FIANCEE


An engagement at an early age is a far-rooted Mongolian tradition. It is something like a preparation for a girl to enter adulthood and become a fine wife. She has no choice to refuse once an engagement takes place.
A now 21 year old wife recalls her reflection in a mirror in her memory from her engagement day.